safer kitchenware
News from Newsroom America:
Environmental Working Group www.ewg.org
---
---
published by the Environmental Working Group
Dear Friend,
I don't know about you, but my favorite part of the holidays is the food.
Whether it's cooking with friends, enjoying a cozy meal out or simply just hanging out in the kitchen – food really does bring people together. And my friends agree.
So this year, I decided to give my friends gifts for their kitchens to help them prep for the new year in a healthier way! I thought I'd share with you the great gifts on my EWG-approved shopping list.
Whether you're looking for last-minute presents or prepping for holiday feasts, these should fit the bill. And if you buy through one of our dedicated Amazon links below, a portion of your total purchase amount will be donated to EWG, at no extra cost to you – no matter what you buy, http://amzn.to/TiTNtx.
Cheers to a safe – and flavorful – holiday.
Sincerely,
Ken Cook President, Environmental Working Group
Here are a few of the safe, attractive kitchenware products that caught my eye and would make great gifts.
For the oven:
:: Pyrex Easy Grab 11-Piece Bake and Store Set,
Related News:
---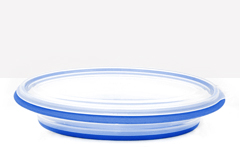 The first and only collapsible bakeware product that can be used virtually anywhere oven freezer or microwave. Prepare bake microwave serve and store all in one container. Easy to see through body and storage lid. Made of proprietary food grade material called ceramber. Dishwasher safe. Collapses to approximately 1 inch for easy storage. Oven bakeware and microwave safe to 500 degrees Collapsible to 1 inch for easy storage Naturally nonstick Airtight storage container Transfers heat more evenly than silicone or glass bakeware products
List Price:
Price: 31.04